Service Partners We Recommend
This table lists many of our technology service and sourcing partners.
We stand by our recommendations so please contact us should you find
any of these businesses fail to meet your needs and expectations
Domain Registrars and Hosting Providers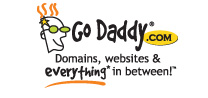 Godaddy
We recommend GoDaddy as one of our preferred hosting and registrar companies based on price, responsiveness, customer service and performance. The only area where we would still like to see improvement is improvements in control capabilities for MS SQL databases. Also, before your sign-up for "domain privacy", make sure you really need it. We feel it can significantly increase your costs for little value.

Host Gator
If you are looking for a hosting provider that doesn't discriminate against adult content, then check out hostgator.com. They are a full service provider with a solid reputation. They openly accept adult content sites that are properly encoded for recognition by child protection software.

Arvixe
Arvixe is an excellent hosting firm with good prices and strong customer service. We especially recommend Arvixe for PDG Commerce installations and DNN Evoq CMS.

Shockwave Sound
This is an excellent resource to locate audio clips and soundtracks for animations.

123 RF Stock Photography
We've just begun using this firm for stock images. They appear more cost effective than Istock and we are hopeful they will be able to replace Istock as our preferred source.

I Stock
This site offers a massive library of stock illustrations, photos, video and audio clips at somewhat reasonable prices. They used to be one of the least expensive sources but a recent merger with Getty Images has significantly raised prices. Images are offered in various sizes for both websites and print.
Graphic Artists and Marketing Consultants

Buckledown Interactive
This company is led by Keith Morgan and is located in Columbus Ohio. They are superb at website and marketing designs. We have enjoyed a long and successful relationship partnering with them on many sites. (This company was previously named Twin Acorn Design.)

Photo Color Graphix
This company can produce almost any size shape and type of digital print, stage construction or marketing display you can imagine. From backlit display systems to artwork reproduction to presentation banner stands they offer it all.

PS Print
We highly recommend this company for production of common print marketing materials like: club cards, postcards, posters, business cards and brochures. Their website offers an excellent library of pre-formatted templates for accurate printing. As a company they also have outstanding responsiveness and great pricing.

PDG Commerce
This cart operates on a Unix platform and includes a direct interface with Quickbooks Point-of-Sale. It supports multiple skins which can support seasonal or holiday design changes.